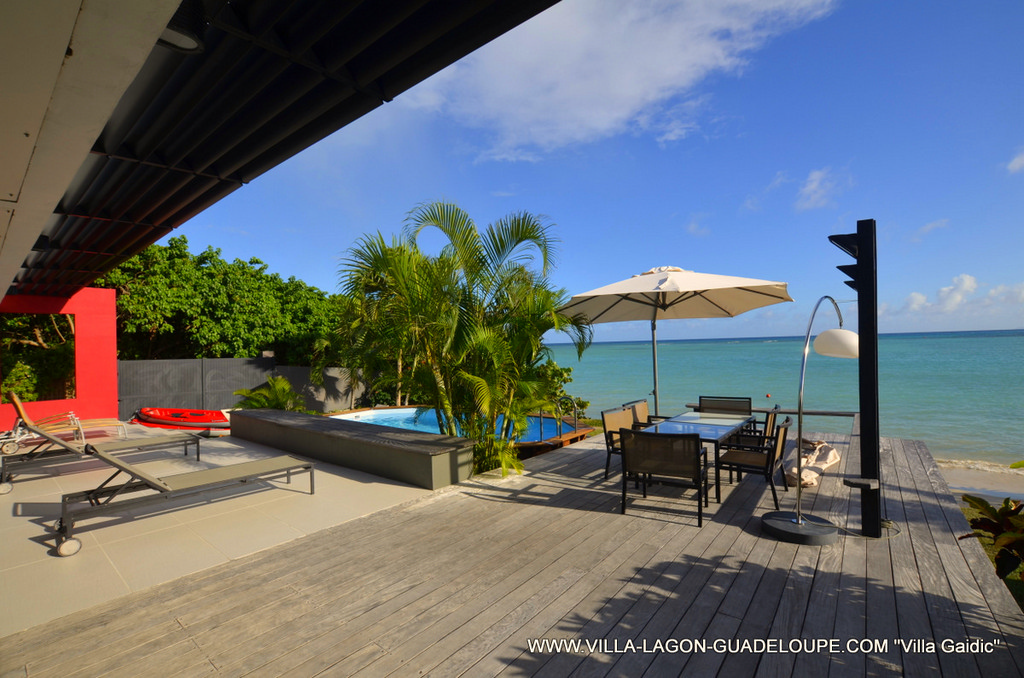 Welcome to Villa Gaïdic
A large villa, less than 10 feet from crystal clear waters
Official tourism classification : Five Stars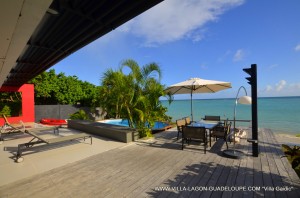 Capacity : Up to 12 guests
Surface : 400 m² (478 squared yard) (single storey house)
Swimming Pool : Yes (with pool alarm)
Jacuzzi : Yes
Garage : Yes (2)
Distance to the beach : 5 m (25 ft)
Maid Service : 6 hours per week
An electric car is waiting for you when spending holidays in Villa Gaïdic
First dinner offered at arrival
Bedroom #1
1 king Bed
In-suite bathroom with shower
Air-conditioner
Sea View
LCD TV
Mosquito Net
Bedroom #2
1 Queen Bed
In-suite bathroom with shower
Air-conditioner
LCD TV
Sea View
Bedroom #3
1 Queen Bed
In-suite bathroom with shower
Air-conditioner
LCD TV
Sea View
Bedroom #4
1 Queen Bed
In-suite bathroom with shower
Air-conditioner
Mosquito Net
 Bedroom #5
2 single beds
In-suite bathroom with shower
Air-conditioner
Mosquito Net
Bedroom #6
2 single Beds
In-suite bathroom with shower
Air-conditioner
Mosquito Net
Equipment
Electric oven
Microwave oven
dish washer
Side by side refrigerator (and freezer)
Nespresso (R) coffeemaker (1)
Drip coffeemaker and expresso coffeemaker
Toaster
Kitchen machine
Laundry room
Washer
Side by side refrigerator (and freezer)
Fridger Freezer
Upright Freezer
electric dryer
steam iron
safe
vine cellar
 (1) 20 capsules are offered. We can sell you additionnal capsules.
Large LCD screen TV
DVD, Blue-Ray reader
Sound system
iPhone, iPod dock
satellite TV (French channels)
WiFi (ADSL internet)
2 bikes
1 aquabike
2 canoes (with complete equipment)
2 paddleboards
snorkeling kits
floating water sundeck
Actual scènes may differ from the current photos for we constantly improve the services and amenities of our villas.
---
Outside Photo Gallery
Click on images to zoom
---
Inside Photo Gallery
Click on images to zoom
Rates
From
For 7 nights
4 bedrooms
For 7 nights
5 bedrooms
For 7 nights
6 bedrooms
including maid service (6H/Week) and laundry service (once a week)
2015 February, 16
6,200 €
6,200 €
6,200 €
2015 March, 16
4,100 €
4,600 €
5,600 €
2015 April, 12
6,200 €
6,200 €
6,200 €
2015 May, 7
3,200 €
3,600 €
4,485 €
2015 June, 9
3,200 €
3,600 €
4,485 €
2015 July, 13
6,200 €
6,200 €
6,200 €
2015, August 24
3,200 €
3,600 €
4,485 €
2015 October, 17
4,100 €
4,600 €
5,600 €
2015 November, 1
3,200 €
3,600 €
4,485 €
2015 December, 19
8,900 €
8,900 €
8,900 €
2016 January, 3
4,100 €
4,600 €
5,600 €
2016 February, 6
6,200 €
6,200 €
6,200 €
2016 March, 6
4,100 €
4,600 €
5,600 €
2016 May, 8
3,200 €
3,600 €
4,485 €
2016 June, 1
3,200 €
3,600 €
4,485 €
2016 July,16
6,200 €
6,200 €
6,200 €
2016 August, 20
3,200 €
3,600 €
4,485 €
Rates